PRESS
I Am Nasrine - Charity Event at The Lexi Cinema, London
21st May 2013
Newcastle University is hosting a special film screening and Q&A with Tina Gharavi at the Lexi Cinema, London, recently voted 'coolest cinema ever'!
Date: May 21st, 2013 Time: 6.30 – 9.30pm (film screening 7.30 – 9pm)
Venue: The Lexi, at Kensal Rise, NW10, is the UK's first social enterprise cinema, where all profits go to charity. It was co-founded by Newcastle graduate Teresa Graham. Check it out at www.thelexicinema.co.uk
The Cause: All proceeds from this event go to the Newcastle University Women's Circle, which raises funds to provide bursaries to allow disadvantaged young people to study at Newcastle.
The Price: £25, includes wine reception
To Book: The Lexi Cinema only has 60 seats so spaces are strictly limited. To book please fill in this form now!
Joobin Bekhrad - REORIENT Magazine
1st April 2013
REORIENT is a Middle Eastern Arts and Culture Magazine, and in this beautiful half-synopis/half-poetic prose piece writer Joobin Bekhrad explores the emotionally-draining path that both Nasrine and the audience must walk.
"The British Public has been hijacked"
Interview with The Guardian, 8th February 2013
Natalie Shooter of The Guardian provides an excellent piece that discusses a whole host of issues. It includes, but is not limited to, I Am Nasrine's BAFTA nomination, the inspirations behind the film and its tumultuous production, the Iranian cinema climate and the peddling of anti-asylum sentiment in the British media.
The Guardian - "The British Public has been hijacked"
"Asylum Seekers need clothes, food and shoes - not art."
Interview with The TV Collective, 21st January 2013
Tina Gharavi discusses the struggles she faced in acquiring funding for I Am Nasrine and subsequent distribution difficulties, as well as talking about the larger work of Bridge + Tunnel and it's existence on an ever-changing landscape for UK Arts. Ena Miller conducts an excellent interview that has Tina providing insights into the work of Bridge + Tunnel and the importance of making media experience available to all.
The TV Collective - Interview with Tina Gharavi
I Am Nasrine - BAFTA Nominated!
9th January 2013
Tina Gharavi has been nominated in the 'Outstanding Debut by a British Writer, Director or Producer' category at this year's BAFTAs for I Am Nasrine. The nomination came as a complete surprise to all involved, not least Tina herself, who only heard the news through a friend on Facebook.
"I woke up and someone had put 'congratulations' on my Facebook page - quite unbelievable. I'm still smiling. It is a small film and to be acknowledged in this way, I feel like I've already won."
Shiraz Haq, who plays Ali, could hardly believe the news himself:
"At first I thought it was an elaborate hoax. I couldn't believe it. I was over the moon – emotional. It was one of those moments of extreme validation."
Shirin Barghi interviews Tina Gharavi for www.souciant.com
Tuesday 26th June 2012
In this interview, Tina discusses the inspiration behind I Am Nasrine, the film's turbulent production process and the progress it has made since it was completed. A fascinating read with insightful questions and answers from both parties.
I Am Nasrine - www.souciant.com
Brooklyn Film Festival - 1st-10th June 2012
I Am Nasrine scoops the 'Best Screenplay' award.

Congratulations are in order for all those involved with I Am Nasrine as the film wins the Best Screenplay award at the 2012 Brooklyn Film Festival.
Tina Gharavi on Woman's Hour
Friday 25th May 2012, BBC Radio 4
Tina Gharavi joined Jenni Murray and BBC Radio 4's Woman's Hour to discuss I Am Nasrine, asylum seekers and immigration in the UK.
You can listen again to Tina and Jenni's thought-provoking discussion here.
I Am Nasrine at Parliament
22nd May 2012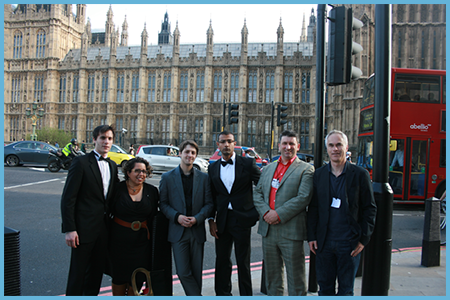 Building on its fast-growing reputation for depicting the daily struggle of young asylum seekers in the UK, Tina Gharavi's tale of immigration and identity appeared at The Houses of Parliament for a special screening and Q&A session on 22 May 2012. The screening was sponsored by Ali Rushanara, MP for Bethnal Green & Bow, and was attended by parliamentarians and special invitees, including cast and crew members.